WWF en MCP tekenen samenwerkingsovereenkomst voor verantwoord watergebruik in Nickerie
01/08/2008

Nickerie - Het World Wildlife Fund (WWF) en het Multipurpose Corantijn Project (MCP) hebben gisteren een samenwerkingsovereenkomst getekend voor het beter beheren en leveren van water voor de rijstsector in Nickerie. Manodj Hindori, voorzitter van het MCP, zegt dat met een efficiënt en integraal beheer van de Nanizwamp en de Nickerierivier, niet alleen de watervoorziening via de irrigatiesystemen beter kan worden, maar dat ook de productiekosten van rijst omlaag kunnen. Een ander aspect dat in het project is opgenomen betreft het onderhouden van de verschillende watersystemen in het rijstdistrict.

Met behulp van de Anton de Kom Universiteit van Suriname zal onderzoek worden gedaan en data verzameld. De bedoeling is om over te stappen van kunstmatig aangelegde systemen naar mechanische en biologische werken om de kanalen te onderhouden.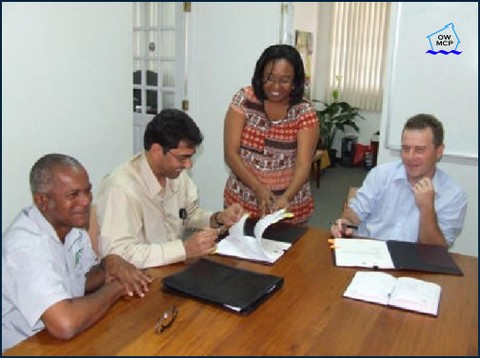 Manodj Hindori van het MCP en directeur Dominiek Plouvier van het WWF plaatsen hun handtekening onder het samenwerkingscontract voor duurzaam waterbeheer in Nickerie. Uiterst links MCP-penningmeester Richenel Small en staand Maureen Manasse, financieel medewerkerster van het WWF. (dWT foto / Wilfred Leeuwin)

Minoe Parahoe van het WWF zegt dat het voor de natuur- en milieuorganisatie een uitdagend en belangrijk project is. De uitdaging ligt er in dat uit de natuur water wordt onttrokken zonder daar veel of helemaal geen schade aan te richten. Daarnaast is dit project een goede combinatie tussen behoud en bescherming van biodiversiteit, samen met economische activiteiten. De duur van het project is bepaald voor de periode van een jaar.

Het WWF heeft uit zijn donormiddelen een bedrag vrijgemaakt van 114.000 US dollar, terwijl het MCP met 28.000 US dollar inkomt voor technische assistentie, zoals personeel, onderkomen en andere faciliteiten. Volgens Hindori en Parahoe komt de samenwerking tussen overheid en bedrijfsleven (het zogenaamde, Public Private partnership) met dit project goed tot uiting. De MCP-voorzitter zegt dat het maatschappelijk belang bij dat project groot is. "Elke boer heeft er belang bij dat er een goed waterbeheer en watervoorziening is voor zijn rijstarealen. Daarnaast kan ook de totale samenleving hiervan profijt hebben." De ondertekening van het samenwerkingscontract vond plaats op het kantoor van WWF aan de Henk Arronstraat.-.


About WWF Guianas

WWF Guianas is a program office that is a part of the WWF global network. We operate in the Guianas, with our head office located in Suriname. We have 2 satellite offices, one in Guyana and the other in French Guiana. Situated in the north-eastern part of South America, the area known as the Guianas is made up of Guyana, Suriname, and French Guiana. The Guianas have their borders with Brazil and are part of the wider Amazon region.
WWF Guianas rests on WWF's mission to "conserve nature and ecological processes by ensuring that the use of renewable resources is sustainable both now and in the longer term".

In order to fulfill its mission to conserve the Earth's biodiversity, in 1998 WWF identified 238 ecoregions representing the highest priorities for conservation worldwide, among them the Guianan Moist Forests Ecoregion.

These ecoregions, widely known as the Global 200, are a collection of the Earth's most outstanding and diverse habitats or areas where its biological wealth is most distinctive and rich, where biological loss will be most severely felt, and where WWF's conservation efforts must concentrate.
The WWF Guianas Program is a WWF conservation initiative launched in 1998, covering the three Guianas (Suriname, French Guyana and Guyana) and targeting the Guianan Ecoregion complex (Guianan Moist Forests Ecoregion, Guianan Freshwater Ecoregion and Guianan-Amazon Mangrove Ecoregion).

It operates through partnerships with local communities, private and public sector institutions, international NGOs and funding organizations to achieve nature conservation and sustainable use of the region's natural resources.

Mission
CONSERVE THE DISTINCT NATURAL COMMUNITIES, ECOLOGICAL PHENOMENON AND MAINTAIN VIABLE POPULATIONS OF SPECIES OF THE GUIANAS IN ORDER TO SUSTAIN IMPORTANT ECOLOGICAL PROCESSES AND SERVICES THAT MAINTAIN BIODIVERSITY, WHILE SUPPORTING THE REGION'S SOCIO-ECONOMIC DEVELOPMENT.
WWF's mission is to conserve nature and ecological processes, to seek the sustainable use of natural resources, and to promote the reduction of pollution and wasteful consumption while recognizing and respecting human needs and livelihoods. Our aim is to slow down, and eventually reverse, the accelerating degradation of our planet's natural environment; and to help build the future in which people live in harmony with nature.